Hotels in Jammu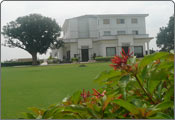 Visit the Jammu district for one of the most enchanting, scenic and unique destinations of India. This southernmost part of the state of Jammu and Kashmir offers a marvellous sight of snow clad Pir Panjal Mountains, splendid lakes, spectacular valleys, grand palaces and forts, and forested hills, many of which are unexplored even today. Jammu boasts of being the second largest city and the winter capital of J&K. Moreover, being a great pilgrimage, it is popularly known as "The City of Temples". All these major factors make it one of the most visited tourist destinations in India.
Jammu witnesses a huge inflow of the tourists throughout the year. Therefore, it offers a number of decent accommodation options. There are various hotels, resorts and guest houses that cater to the needs of tourists coming to explore Jammu or the scenic region around. Hotels in Jammu offer you contemporary luxuries and comforts coupled with customary Indian hospitality. A few major hotels in Jammu are:
Heritage Hotels
1. Hotel Hari Niwas Palace

Located on Palace Road, Jammu Tawi, this grand hotel was the residence of the Maharajas of Jammu & Kashmir. Hari Niwas Palace is a Heritage Hotel, built on the higher slopes of River Tawi. The palace is a wonderful piece of ancient architectural art, which was converted into a heritage hotel in the year 1990. Hari Niwas Palace has been renovated to enhance guest occupancy. Overlooking the River Tawi, this hotels covers 50 acres of lush green lawns, gardens and fountains.
Its 40 well furnished elegant rooms offers world class facilities and all modern amenities. Every room is decorated in a different manner with Victorian furinture. The hotel complex has a huge Amar Mahal Palace Museum with a well stocked library. This was visualised by Maharaja Amar Singh of Jammu and Kashmir. Along with all the high-end facilities and services, one can avail the spa wherein massage, sauna and other treatments are given. Gym and an all weather swimming pool is available for the resident guests. Spend  quality time at the garden recreational area where you can enjoy choicest Bar-be-que in the evenings.
Four Star Hotels
1. Fortune Inn Riviera

A luxurious unit of the Fortune Group of Hotels, the Fortune Inn Riviera is locaed on the banks of River Tawi. It is a cozy retreat in serene Jammu. This centrally AC hotel offers 29 fully furnished guest rooms with Wi-Fi connectivity. Rooms are equipped with all sorts of modern facilities along with minibar, electronic safe and in-room tea/coffee maker.
Orchid- the multi-cuisine restaurant and Earthen Oven- an authentic north indian restaurant serve the best authentic Kashmiri dishes. Assistance for recreational activities is also available.
2. Hotel Jammu Ashok

A suitable ground for pilgrimage to Shri Mata Vaishno Devi Shrine, Hotel Jammu Ashok belongs to the Ashok Group of Hotels. The hotel is built on the first elevation of the Himalayan Range, at the entrance to the captivating valley of Kashmir. Located at a distance of 8 km from Jammu airport and 9 km from Jammu-Tawi railway station, the hotel is positioned on the foremost altitude of the Himalayan Range.
The hotel has 47 sophisticatedly decorated rooms, 2 of which are double bedded suites. All the rooms are airconditioned and offer 24 hr room service with the world class amenities. Coffee Lounge Gulistan is a multicuisine restaurant with specialties in Continental, Indian & Kashmiri cuisine. Nagin Bar is a well covered cozy place to enjoy evenings with your favourite drinks. Hotel Jammu Ashok provides seperate facilities for conference hall (Tawi Room) and party room. The hotel takes care of the recreational needs of the tourists, therefore offers a shopping mall, swimming pool, beauty saloon, gym etc.
3. Hotel Asia Jammu

A unit of Asia Group of Hotels, Hotel Asia Jammu lies 4 km from Jammu airport and is counted as one of Jammu's finest hotels. The hotel is categorised in the 'A' class category because of its out-of-the-world services, seclusion, lovely surroundings and posh facilities. All the elegant rooms in hotel Asia Jammu Tawi are air conditioned. The in-house restaurant serves awesome and lip smacking aromatic delicacies from Indian, Mughlai, Chinese and Continental Cuisines.
For business purposes, the hotel has well furnished conference halls where one can organise conferences and meetings. The facilities cater to the needs of the discerning business travelers. Coming to the entertainment, Hotel Asia Jammu Tawi offers a number of indoor games, and a few cultural art/dance/music performances in the evening on request.
4. Hotel Pushkar Dee Pee Residency
A wonderful accommodation option at NH-1, Jammu Road, Distt. Gurdapur, Hotel Pushkar Dee Pee Residency is situated 5.5 km from the Bus Stand & Railway Station of Pathankot. It offers an excellent natural atmosphere of indigenous culture along with the highest standards of hospitality. The spacious suites & deluxe rooms and banquet halls are covered with lush green lawns, open air restaurant, swimming pool, gym, beauty parlour, billiard room etc. The conventional hall, Crystal Ball Room, can be hired for kitty parties, conferences, seminar meetings and so on.
The spacious banquet hall, Shenai, can accommodate upto 1200 to 1500 persons at a time. The hotel offers a totally different atmosphere for memorable holidays surrounded by beautiful waterfalls, fountains and carpetted lawns.
5. Hotel Ritz Manor

Hotel Ritz is a reputed hotel in Jammu offering marvellous sight of forested hills and lakes. Located 8 km from Jammu airport and 9 km from the railway station, the Ritz offers tranquil peace and world class hospitality in each perspective. This global lodging centre provides all the lavish facilities and fun to make your trip memorable. The trained staff is happy to help you 24x7. Hotel Ritz Manor has centrally air conditioned standard rooms, deluxe rooms and suites. These elegantly furnished rooms, equipped with high-end incomparable facilities, enable it to be one of the best hotels in Jammu and the one of the most expensive too.
The restaurant serves delicious, lip smacking aromatic delicacies from Continental, Indian & Kashmiri Cuisines to its guests. There are two well furnished conference halls to organize conferences and meetings.
Three Star Hotels
1. India Pride Hotel
Regarded as one of the best B Class Hotels in Jammu, India Pride Hotel is known for its trained staff and great treatment. Its facilities and services provide an amazing ambience that makes it a perfect choice for both the business as well as leisure travellers. Its location makes it easily accessible from various parts of the region, through different modes of transport. Its 24 brilliantly furnished and well appointed deluxe rooms are equipped with the best of facilities. The rooms provide spell-binding views of the surroundings hills.
The multi-cuisine restaurant at the hotel serves the best of Indian, Chinese, Mughlai and many other dishes. The India Pride Hotel is a great place with several recreational facilities. The atmosphere is pollution free and peaceful.
2. Hotel Samrat

Hotel Samrat is unique in terms of its traditional and cultural hospitality. Its ambience, surrounded by steep hills, crystal clear lakes and cool winds, makes it a favourite place to stay for both the business as well as leisure travellers. Its comfortably designed 27 rooms are equipped with the best of luxuries.
The mouth-watering Indian, Mughlai, Chinese, Kashmiri and other dishes are enough to pamper you. The staff arranges tours and trips and provides assistance for sightseeing and adventure activities in the nearby areas. The wonderful sight of mother nature from the hotel helps in rejuvenating the senses of  travelers.
3. Hotel Vardaan
Another favoured B class hotel in Jammu is Hotel Vardaan that not only offers a great stay but also provides a great ambience highlighting the hospitality of the city. Located approximately 5 km from Jammu airport and 4 km from the railway station, Hotel Vardaan provides accommodation with all modern facilities at a reasonable price.
The 26 beautifully furnished rooms of the hotel are categorised in AC and non-AC rooms. All the other facilities are similar in both the categories of rooms. One can enjoy an array of Indian, Chinese and Continental with or without onion and garlic. Along with all proper business facilities, Hotel Vardaan's recreational centre organises trips and tours in and around the city. Assistance for adventure sports is also available on request.
Apart from these above options for accommodation, a few other B class or budget hotels in the City of Temples are:
Hotel Premier
Jewels Hotel
K.C. Residency
Royal Parks
Hotel Mansar Jammu
Ashiana Hotel
Hotel Jammu International
Hotel Swagat
Hotel Swastik
Moti Mahal