Tourist Destinations of Jammu & Kashmir
Gulmarg Tour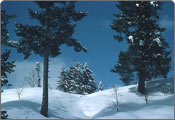 Location: In Baramula district, 56 km southwest from the capital city of Srinagar.
Best Time to Visit: December to April
Welcome to the highest golf course in the world, located at an altitude of 2650 metres !! As the name suggests, Gulmarg offers you a wonderful sight of grassy slopes filled with flowers. The word "Gulmarg", literally meaning "the meadow of flowers" in Hindi, was coined by Sultan Yusuf Shah in the 16th century. Colourful Bluebells, Daisies, Forget Me Not and Buttercups draw a number of tourists from the world around. Apart from being one of the most beautiful hill stations in India, Gulmarg has something special for adventure seekers. Winters are perfect for skiing and trekking.
Major Attractions
Gulmarg is wonderland for adventure sports lovers. The northern Pir Panjal Range is considered a perfect location for trekking. During your trip to Gulmarg, you have the privilege to visit the highest golf course in the world. The golf club was started by the British in 1904. Apart from this, it is also counted among the best skiing resorts in India.
Khilanmarg is a wonderful valley that provides a panoramic view of the majestic Himalayas. The air is aromatic because of countless colourful flowers. You will feel refreshed in the atmosphere of Khilanmarg valley.
Near the Apharwat peaks, flows the Alpather Lake. This alpine lake remains frozen till mid-June. Alpather Lake makes an exciting day's excursion for horse riding fans.
Several tourists visit the shrine of Baba Reshi to pay a holy tribute. This Muslim shrine, built over the slopes below Gulmarg, witnesses thousands of devotees every year.
Food/Cuisine
Gulmarg offers a wide variety of food in its various multi-cuisine restaurant. Here you can have several spicy dishes (mostly non-veg). They do serve vegetarian meals as well, but they are not as great as the non-vegetarian items. If you are fond of non-veg dishes, you can have a variety in kababs.
Shopping
There are a few handicraft shops near the downhill areas, from where you can buy carpets, mats and several hand-made metal items. But for quality shawls, baskets and other delicate products, you need to drive to Srinagar.
Flora And Fauna
To the southwest of Srinagar,  lies the Gulmarg Biosphere Reserve, where you can find a rich and varied flora and fauna. A number of rare and exotic species like the Serow, Leopard, Musk Deer, Black Bear, Hangul, Red Fox, Brown Bear, Leopard can easily be spotted here. Ornithologists often visit this biosphere to see birds like Blue Rock Pigeon, Snow Cock, Jungle Crow, Griffon vulture, Koklas, Kashmir roller, European hoopoe, etc.
Conifers account for over ninety percent of the flora. Aesculus indica, Pinus griffithii, Cedrus deodara, Abies pindrow, Dicotyledonus herb and shrubs like Sorbaria tomentosa, Viburnum, and Indigofera heterantha are the other major flora species.
Accommodation
Gulmarg offers a total of more than 40 hotels of all grades. You will find all of them fully booked in winters. During off-season, discount of upto 60% are offered on most accommodation unit of these resorts/hotels.
How To Reach
By Air: The nearest airport is in Badgam district. Srinagar airport lies at a distance of 57 km.
By Rail: Jammu, at a distance of 305 km (around 8 hr drive) is the nearest railhead.
By Bus: You can drive to Gulmarg from Srinagar via Tangmarg. It takes hardly 1 hr by bus or car.