Tourist Destinations of Jammu & Kashmir
Pahalgam Tourism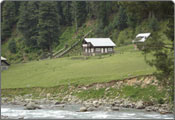 Location: In Anantnag district (2130 m above the sea level), western part of the state of J&K.
Best Time To Visit: Mid-April to mid-November. It can also be visited in July-August during the annual pilgrimage to the holy cave of Amarnath.
Pahalgam, popular as the valley of shepherds, is also the base camp for the pilgrims to the holy Amarnath cave. The place attracts tourists to explore its scenic beauty and the picturesque Liddar valley located in the high Himalayas. An ideal destination for hiking, trekking, and fishing, Pahalgam receives heavy snowfall from December to February. Its thick pine and cedar forests provide a natural habitat for the brown bear. During your vacations in Pahalgam, you may visit Hajan, a picnic spot, which lies on the way to Chandanwari.
Major Attractions
River Liddar has a number of picnic spots around it. Spend some leisurely moments by the river bank.
Pahalgam is a part of Asia's only saffron growing area. While visiting Pahalgam, you can see the saffron plants in full bloom in the month of November.
It is an ideal place for adventure enthusiasts too. People love to go  angling, trout fishing, horse riding, golf, snow skiing and trekking here.
Pahalgam is the starting point of the Amarnath yatra, a pilgrimage to the holy cave shrine of Amarnath (abode of Lord Shiva). During the months of July/August, thousands of pilgrims pass through Pahalgam to reach the holy cave of Amarnath.
For a picturesque view of the snow clad mountains, take a walk in the Baisaran Pine Forests (5 km).
Food/Cuisine
Pahalgam, undoubtedly, offers you a wide array of restaurants serving Kashmiri specialties. Aromatic spices are the identity of Kashmiri food. Besides, these eating joints also serve a variety of Punjabi, Gujarati and Chinese dishes. Dining in 'Houseboat Restaurants' is a remarkable experience.
Shopping
Popularly known as valley of shepherds, Pahalgam offers a variety of wool and wool products (pullovers, bags, mats etc). Gabbas (floorings made out of old blankets) and Namdas ( small carpets or rugs) can also be purchased from local shops.
Climate
The summer maximum temperature rarely goes above 25 degrees celsius. Being located at a height of 7200 feet above sea level, the temperature can fall to -10 degrees in winter.
Accommodation
Located by the banks of River Lidder, Pahalgam offers a number of hotels, which provide comfortable accommodation facilities to the tourists. These hotels range from luxury to mid-range and budget hotels. There are a few government-run accommodation tourist bungalows.
How To Reach
By Air: Srinagar is the nearest airport at a distance of 95 km.
By Rail: Jammu is the nearest railhead.
By Road: A 2½ hours drive from Srinagar by regular buses or taxis will take you to Pahalgam.