Jammu & Kashmir Information
Home
Jammu & Kashmir Information
History
History of jammu and kashmir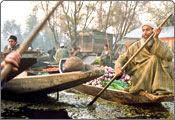 Early History
Cradled amidst the snow clad Himalayas, the state of Jammu & Kashmir was one of the major centres for learning Sanskrit since the ancient times. This fact is supplemented by several evidences in the great Hindu epic Mahabharata. The word "Kashmir" is believed to have originated from Sanskrit. In Sanskrit: "Ka" means 'water' and "shimeera" means 'desiccate'.
According to a Hindu mythology, Kashmir valley was once the holy lake Satisar (the lake of goddess Sati or Durga), which was drained by the great saint Kashyapa (the grandson of Lord Brahma). The brahmins of the nearby areas then inhabited it.
The Mughals
The Mauryan emperor Ashoka and his missionaries introduced Buddhism in the region. But Hinduism continued to be the dominating religion here for many centuries. The state witnessed kingdoms of the Kushans (2nd century), Durlabha-vardhana (7th century), Utpalas (855 AD), Tantrins, Yaskaras, Guptas and the Loharas. Shams-ud-Din was the first Muslim to rule Kashmir in 1346, and was overthrown by the Mughal emperor Akbar in 1586. In this way, the state of Kashmir has witnessed several rulers and inherited different kinds of cultures, traditions, arts, literatures and life styles.
Jammu is believed to have been a totally separate area under the rule of Raja Jamboolochan in the 14th century BC. It was established when the king saw a goat and a lion at the Tawi river, during one of his hunting campaigns. He was so impressed that he set up a town at that place after his name- Jamboo, which was renamed "Jammu" after a long interval of time.
The Sikhs And The British
The Sikh king Ranjit Singh conquered Kashmir in 1819, but the British defeated the Sikhs in 1846. That was the era when Jammu and Kashmir were brought to a single political and geographical entity, as decided in the Treaty of Amristar (March 16, 1846), when the British sold J&K to Gulab Singh for Rs. 7.5 million. Maharaja Rambir Singh, Maharaja Partab Singh and Maharaja Hari Singh ruled over Kashmir in succession.
After the independence of India, in 1947, Maharaja Hari Singh the rulers of princely states were given the choice to freely accede to either India or Pakistan or to remain independent. Maharaja, being a Hindu, chose to join India.