Jammu & Kashmir Information
Home
Jammu & Kashmir Information
About Jammu & Kashmir
About Jammu & Kashmir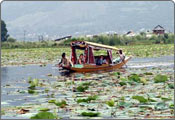 Come and explore the crown of India- where the natural beauty is blest by the Gods... where the misty morning sprawls over the snow clad peaks... where the sunlight gives a gentle touch to the woods and waters, valleys and hillside... If there is heaven on earth, it is here in the divine lands of Jammu & Kashmir !!
Jammu & Kashmir, the sixth largest state of the Indian union, is mostly mountainous with stretches of valleys and some mountain lakes. Nature lovers from all over the world flock to this northernmost extremity of India for destinations such as Gulmarg, Pahalgam, Leh, Patnitop, and Ladakh, comparable to the Alps.
Geographical Diversity
The state enjoys a sharp rise of altitude from 1000 feet to 28250 feet above the sea level, with three different climatic regions- Arctic cold deserts of Ladakh, temperate Kashmir valley and sub-tropical Jammu. Jammu & Kashmir is divided in four zones:
The Shivalik Ranges
The high mountainous part of the Kashmir Valley, Pir Panchal range and its off-shoots (Doda, Poonch and Rajouri districts and part of Kathua and Udhampur districts)
Sub-mountain and semi-mountain plain- kandi (dry belt)
The middle run of the Indus river comprising Leh and Kargil.
Each zone has a distinctive identity in terms of natural beauty, flora and fauna, culture, food and lifestyle. The region is nurtured by the major rivers- Jhelum, Indus, Chenab, Tawi and Ravi- that flow through the state.
The state has two capitals- Srinagar (the summer capital; famous for lakes, houseboats and Mughal gardens) and Jammu (the winter capital; popular for temples).
Economy
The local people are mostly involved in agriculture. Kashmir is a leading exporter in agricultural products such as apples, barley, cherries, corn, millet, oranges, rice, peaches, pears, saffron, sorghum, vegetables, saffron and wheat. The manufacturing industries for handicrafts, rugs and shawls contribute a major part in the state's economy.
The state of Jammu & Kashmir is situated mostly in the Himalayan mountains, therefore it is frequently visited by the adventure enthusiasts for trekking, rafting and skiing. Some of the major pilgrimage centers of India, including the Amarnath Caves and Vaishnodevi Shrine are situated in Jammu and Kashmir. Therefore, tourism also contributes a lot towards the economy.
Culture
The state (often called J&K) has been a prime centre for learning Sanskrit and Persian since time immemorial. Today, J&K comprises of Hindu, Islamic and Tibetan culture. The diversity can be observed in the life style, architecture, music, dance, festivals and literature of the people of different districts. The people of J&K speak Urdu, Kashmiri, Hindi, Dogri, Pahari and Ladakhi languages.
The best seasons to visit are also categorized according to the climatic conditions, as each part differs greatly in topography. For visiting Jammu, it is October to February, for Kashmir- May to October, and November to February, and for Ladakh, it is Mid June to September.