Jammu & Kashmir Information
Home
Jammu & Kashmir Information
Food and Cuisine
Kashmir Food and Cuisine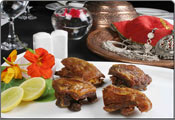 Picturesque greens, hill-stations, lakes and traditional art forms are undoubtedly the greatest attractions in Jammu and Kashmir. But the mouth-watering delicacies and exotic recipies also play a vital role in keeping the tourist bounded here. The Jammu and Kashmir cuisine is influenced by various communities that have settled in the state. You will observe a unique aroma and awesome flavor in the vast variety of vegetarian and non-vegetarian food.
History
The delicious food of J&K is believed to have evolved when the Timurs invaded Kashmir in the 15th century A.D. and thousands of expert cooks from Samarkand immigrated to cater to the Indian Kings. Those master cooks were called 'Wazas' and they worked under the guidance of 'Vasta Waza', the master chef. They offered the kings a grand feast, which is traditionally known as 'Wazwan' and is still in practice. The special grand feast is characterized by 36 different kinds of meals, out of which fifteen to thirty dishes are the varieties of meat. Today, Wazwan is not only a ritual but also a ceremony. During a trip to J&K, you can enjoy this luxurious food style. Kashmiri weddings are popular for the delicacies mastered by those chefs.
Different Styles Of Preparing Food
A variety of spices along with condiments and curd are used in good quantity in Kashmiri food. Curd is considered the major ingredient in most dishes - whether vegetarian or non-vegetarian. Local people prefer mustard oil for cooking purpose. They are also liberal with the use of the expensive saffron or kesar, which Kashmir is a big producer of. You can also savour rice of a superior grade.
Three different styles of cooking that exist in Kashmir are:
Kashmiri Pandits
Muslims
Rajputs
All the three styles not only differ in the style, but also in the ingredients, recipies and courses. A few differences exist because of the locally produced crops. On one hand the Kashmiri Pandits do not prefer much onion and garlic in their food, while contrary to this, the Muslims do. The Muslims avoid the use of asafoetida (hing) and curds, whereas the Kasmiri Pandits use them often.. However, the Hindu Brahmins or Kashmiri Pandits also cook non-vegetarian food for themselves, but they prefer mutton or lamb meat instead of chicken or beef.
Kabargah, Kofta (veg/non-veg), Dum Alu, mushrooms, bhaseeda (lotus stem/roots) and Methi Chaman are some of the delicacies of the region known for their sheer flavor and richness. Kashmir, also known as the land of fruits, serves a variety of fruit chats and sweets prepared from fruits. 'Firni' is one of the most popular desserts of the state.
There are, of course, plenty of restaurants serving north-Indian or south-Indian dishes as well. A few places are known for special Marwari and Maharashtran food.