Pilgrimage in Jammu & Kashmir
Pilgrimage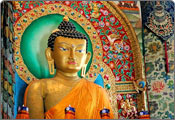 Brimming with devotees of all religions, the pilgrimage places of Jammu and Kashmir are wondrous creations. The state has several holy sites, which are situated amidst the picturesque surroundings of the mighty Himalayas, valleys and lovely spots over looking the rivers. On one hand, Jammu is popularly called "The City of Temples" while the Ladakh region is known as "The Land of Gompas". The Kashmir region, too, has a number of temples and mosques of outstanding beauty.
Every pilgrimage is a wonder in some or the other perspective. Vaishno Devi is among the most visited religious places and Amarnath Cave is popular for the natural 'ice Shiva-Lingam'. Apart from these Hindu pilgrimage places, Hazratbal Shrine (where Prophet Mohammad's hair is kept inside a glass casket) and some other 'Dargahs' are renowned mosques. Hari Parbat Pilgrim Centre is an elevated and splendid place where a mosque, a temple and a Gurudwara stand side by side and give you a sheer feeling of brotherhood.
Most of these Hindu, Muslim, Sufi and Buddhist temples and shrines were built centuries or decades ago and depict the ancient architectural art. A few popular ones are listed below:
Major Hindu Pilgrimage Places
Vaishnodevi (on the top of Trikuta Hills; devoted to Goddess Vaishnavi)
Amarnath Cave (in Pahalgam; devoted to Lord Shiva)
Raghunath Temple (Jammu; dedicated to Lord Rama)
Shankracharya Temple (Jammu; devoted to Lord Shiva)
Sudh Mahadev (Patnitop; devoted to Lord Shiva)
Avantipur Temple (Avantipur; devoted to Lord Surya)
Babor Temple (Srinagar; six different temples for Lord Vishnu, Lord Shiva, Bhairav, Bhrish vahan Shiva, Lord Ganesh & Lord Sun)
Bahu Fort & Temple (Jammu; dedicated to Mahamaya)
Peer Kho Temple (Jammu)
Major Muslim Pilgrimage Places
Peer Mitha (Jammu)
Peer Budhan Ali Shah or Peer Baba (Jammu)
Charar-e-sharif (Kashmir)
Hazratbal mosque (Kashmir)
Khanqah-e-moulah (Kashmir)
Takht-e-Suleiman (Kashmir)
Major Buddhist Pilgrimage Places (in Ladakh)
Rizong Monastery
Likir Monastery
Lamayuru Monastery
Shey Monastery
Stakana Monastery
Thiksey Monastery
Spituk Monastery
Stongdey Monastery
Major Sikh Pilgrimage Places
Gurudwara Shri Guru Nanak Dev Ji (Jammu)
Nangli Sahib Gurudwara (Poonch)
Chhatti Padshahi Gurudwara (Srinagar)
Everyday of the year throngs of people surge up the high hills to visit these places, regardless of their faith or belief, creed or class, caste or religion.