Tourist Destinations of Jammu & Kashmir
Zanskar Trekking Tour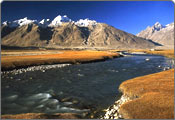 Location: Subdistrict or tehsil of the Kargil district, in the eastern half of J&K state.
Best Time To Visit: May to October. Winter is perfect for adventure sports.
Meet the hardy mountain folks and experience the extreme winters in this beautiful trans-Himalayan valley- Zanskar. Nurtured by the famous Zanskar river, the region comprises of a mainly Buddist population. With diversified topographical features, Zanskar- 'the true Shangrila' covers an area of around 7,000 km sq (at a height of between 3,500 and 7,000 metres from the sea level). People love to visit Zanskar (the copper star) for its whitish copper, used for making vessels for religous and domestic purposes. It is not only a religious city; or one that providesbreathtaking landscapes, but its art work also draws thousands of tourists every season. In winter, when the Zanskar river gets frozen, it provides one of the most challenging and treacherous treks.
Major Attractions of Zanskar
One of the major attractions in Zanskar is adventure sports. The Zanskar river is an ideal destination for river rafting in summers, and in winters, as the river freezes, people switch over to skiing.
After entering the Pensi-la valley, you will come to the magnificent Drang-drung glacier. This majestic glacier, the source of the river Stod, is considered the biggest glacier of the Himalayan region, outside the Siachen formation.
Another place worth visiting is the Karsha Monestry with a large assembly of the monks. This buddhist temple is popular for its extarordinary murals (wall paintings) and rock engravings. People mostly visit this place during major festivals.
If you wish to visit other major religious sites in the area, you may visit Sani (the oldest one), Stongde, Bardhan and Phugtal,  popular for the architecture of 8th to 12th century.
Penzella Pass, of enchanting beauty, divides the Zanskar valley and the Suru Valley. It is ideal for camping and is often used by travelers and migratory people. In summers, when the snow melts, it offers a great view of exotic flora and fauna.
Flora And Fauna
As you walk through the lower region of these valleys, you may find thick vegetaion comprising of alpine, tundra and blue poppies. Meadows are filled with edelweiss. When it comes to agriculture, the crop mainly consists of barley, lentils, potatoes and apricot. High altitude areas are known for a variety of flowers, including the rarest species of Aconitum Violacium (used in medicines).
People keep domestic animals such as yak, dzo, sheep, horse, and dogs. You can spot wild species of animals like the marmot, bear, wolf, snow leopard, kiang, bharal, alpine Ibex, wild sheep and goats, and the lammergeier in the dense forest areas.
Climate
Lying on the Northern flank of the Great Himalayan Range, Zanskar is a semi-desert area. The atmosphere remains warm and dry in the summer. The winter temperatures here are among the lowest in the country, falling below 0 degrees.
Accommodaton
Zanskar offers a few luxurious tourists and economical complexes. Staying in camps or tents is a remarkable experience . There are only a few hotels, available at reasonable prices. If you want to stay for a long time, monasteries and village houses are the best options.
How To Get There
You need to cross  several highpasses to reach this shangrila. Whether you fly in or arrive by train, you need to take a bus/taxi from Srinagar or Jammu, respectively, to reach Zanskar by road.

The road linking Zanskar with Kargil (235 km away) is open from mid July to early November. You can travel by bus, jeep, and taxis from any city of the state.

Options for food and shopping are not that great. You may find several dhabas which serve authentic Kashmiri food. There are only a handful of shops available from where you can buy a limited variety of handicraft items. But the place is outstanding in terms of natural beaury and adventure sports. Make your holidays a memorable one by visiting this trans-Himalayan valley.