Jammu & Kashmir Information
Home
Jammu & Kashmir Information
People and Culture
People and Culture of Kashmir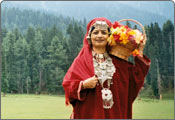 Come, share a part of the astounding valleys of Jammu and Kashmir, surrounded by majestic Himalayas!! Multifaceted !! Multicoloured !! From fairs and festivals to art and architecture, from rites and rituals to seers and sagas, from languages and landscapes to geography and history, each and every aspect of life at J&K reveals a distinctive uniformity and diversity at the same time. Being one of the most colourful and romantic spot in India, Jammu and Kashmir caters its guests with its rich cultural heritage and harmony.
Kashmiris are simple folks of North India. You can observe simplicity and innocence in their lifestyle, which is untouched by the urbanisation.
Background
The state was highly influenced by the Greeks and Romans. Besides, the Persians had a great influence on the living, food, dressing and literature of J&K. Since past few decades the religious cults like Islam, Hinduism and Jainism have made a significant contribution towards the rich cultural heritage of Jammu and Kashmir.
Diversity
These diversified dynasties and religions were responsible for bringing variety into the lives of men. Today, the people of Jammu and kashmir celebrate and enjoy festivals like Durga Puja, Eid-ul-Zuha, Holi and Diwali with same fervor and enthusiasm.
The same factor of unity in diversity can be seen in the population. While visiting Jammu and Kashmir, you will find a lot of Kashmiri Pundits, who are amongst the ancient natives. The major part (around 90%) of population comprises of Kashmiri Muslims (Shia and Sunni) who are engaged in farming and cottage industries. Another class of herdsmen belongs to the Rajasthani Rajputs or Gurjars.

Several tribes are credited for the unique folk art performances that form the identity of the state. The best part with these folk music and dance performances lies in the outfits of men and women. On one hand where the men wear skullcaps, shalwars, churidar pyjamas, and gurgabi (lace less shoes), the women also look very pretty in their long colourful dresses with several ornaments like earrings, necklaces, bangles andnose rings. You will notice a common woolen outfit in J&K that is decorated with floral motifs and heavy embroidery. It is called Phiran.
The state of Jammu and Kashmir, or simply called the heaven on earth has a number of religious holy places belonging to different religions. The demographical diversities of Jammu, Kashmir and Ladakh are very much responsible for such a unique culture. The state is an an interesting reflection of color, zest, harmony and concord in the terms of age old tradition and deep ethnicity. Visit this multifaceted and multicoloured state for a memorable vacation.