Tourist Destinations of Jammu & Kashmir
Leh / Ladakh Tour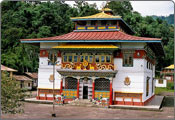 Location: Between the Kunlun mountain range in the north and the Great Himalayas to the south.
Best Time To Visit: June to September.
If one wishes to experience totally different adventure sports, visit the majestic monasteries and celebrate the Buddhist festivals, no other place can compete with the "little Tibet"- Ladakh. Set amidst two of the world's most powerful mountain ranges, the Karakoram and the Great Himalayas, Ladakh is a nirvana for adventure lovers. Offering sports like mountain climbing, cycling, jeep safari tours, yak safaris, mountaineering, and trekking, Ladakh makes your holidays memorable for a lifetime. It is a holy Buddhist pilgrimage comprising of several monasteries and gompas, that depict a typical Buddhist art and architecture.
While on a tour to the remote mountains of Ladakh, you automatically get attracted towards the largest town and the capital Leh. An ideal destination for nature lovers and adventure freaks, Leh offers breathtaking landscapes, enchanting rives, snowcapped mountains and a number of adventure sports.
Major Attractions
There are a number of charming monasteries situated on or near the Indus, out of which Lamayuru is the oldest. A few others  are Thiksey Monastery, Alchi Gompa, Spituk Monastery, Phugtal Gompa and Sankar gompa. The monasteries of Phiyang, Hemis and Chemrey were founded under the Namgyal dynasty.
Several Buddhist festivals make Ladakh alive with their cultural shows, exhibitiona and rituals. Consider yourself lucky if you get a chance to enjoy Hemis, Losar Festival, Ladakh Festival, Ladakh Harvest Festival, Sindhu Darshan and Tak - Tok festival.
If you are fond of historical monuments, visit the Leh Palace. Built for King Singge Namgyal, this 17th century palace, with unique Buddhist paintings and artifacts, was the residence of the royal family.
Popular for its spectacular view and extraordinary artwork, the Vishwa Shanti Stupa was built by the Japanese Government in 1985. This statue, in Changspa village on the hilltop, symbolises 'World Peace'. While visiting this statue in Changspa village, one can have a close view of this little village and lifestyle of local people living in typical Ladakhi houses.
Leh Mosque is a beautiful green and white Mosque, an excellent example of the Turko-Iranian architecture, built in 1666-67 A.D. The mosque is open only to men.
Located around 17 km from Leh town, the Stok Palace Museum is visited for its elaborate display of precious stones, thangkas, coins, royal crowns and dresses and prayer instruments.
Along with a number of adventure sports, the region offers great opportunities to nature lovers as well. Visit the famous Pangong Lake. Situated at an elevation of 14,000 ft,  it is one of the largest and most beautiful brackish lakes in the Country.
Food/Cuisine
The dining options over the hills include small dhabas or restaurants, which serve a variety of Ladakhi, Chinese, Western and Tandoori cuisine.
Shopping
A number of shopping attractions entice tourists in Ladakh. You can buy a variety of knick-knacks available in the bazaars, along with good quality Pashmina wool shawls, handmade woolens, Buddhist masks, Thangka paintings, Tibetan silver jewellery, Apricots, and carpets. You can get a good deal if you bargain hard enough at open market shops. Government emporiums have  fixed prices though.
Flora And Fauna
Ladakh's cold desert valleys, although known for dry atmosphere, are fertile for Oriental and Palearctic type flora. You can see wild roses, willow groves and some herbs along the rivers. The vegetation is quite good even in winters. The dense greens are the habitats for Yaks (a wild ox with black fur), Nyans (the largest sheep in the world), Bharals (the blue sheep) and Urials (the smallest sheep in the world).
Climate
The weather in Ladakh is full of diversities with a temperature range of approximately -3 to 30 degree celcius in summer and -20 to 15 degrees in winter, accompanied by heavy snowfall. You must pack windcheaters, woolen clothing, thick socks, gloves, scarves, hat or woolen cap, boots or walking shoes, sunscreen, goggles, etc. for a trip to Ladakh.
How To Reach
By Air: Leh has the highest airport in India, which well connected to Delhi, Jammu, Chandigarh and Srinagar.
By Rail: Jammu is the nearest railway stations (620 km).
By Road: Leh-Shrinagar highway is the main land-route to leh, with a halt at Kargil. Frequent bus services  are available. Alternatively, you could hire a taxi.