Tourist Destinations of Jammu & Kashmir
Tourist places in Sanasar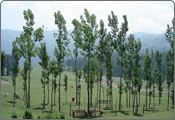 Location: 119 km from Jammu and only 17 km from Patnitop.
Best Time To Visit: May-June and September-October.
Sanasar, the mini Gulmarg and one of the remotest region of India, is a wonderful hill station in the state of Jammu and Kashmir. The town is built in a cup-shaped meadow surrounded by gigantic conifers. Recently, it has been developed as a golf course for its tourists. While visiting Sanasar, you are provided opportunities for paragliding, parasailing and horse riding also. All these adventure sports activities are controlled by J&K government authorities. The place is a paradise for those who want to explore their latent sporting spirits and sportsmanship. It is particularly famous for the wide range of sporting activities.
Major Attractions
Sanasar is a wonderful destination for adventure sports. If you are tired of skiing and trekking amidst the hilly areas, visit Sanasar for the ultimate experience of Paragliding, Horse riding, Hot Air Ballooning and Camping.
You can also visit several tourist spots such as the Nag Temple, the Hidden Creek and the Waterfalls in the nearby areas during your trip. These places are capable of captivating your soul by their mesmerizing beauty.
Food Cuisine
You can have a unique experience in gourmet eating at Sanasar. It offers a variety in traditional and decent Indian cuisine. There is a lot of variety in meats, herbs, spices and homemade dairy products with exotic flavours. The local people love tandoori, bread and rice items.
Shopping
Primarily a place for adventure, there are very few shopping facilities.
Climate
You will require cottons in summers, but thick and warm woolens in winters as the temperature goes down to 0 degrees. You will need woolens in rainy season too.
Accommodation
Sanasar, being a remote area, offers only J&K TDC's tourists bungalows and self contained huts. Both type of accommodation units are well equipped with basic modern amenities.
How To Reach
The most convenient way to access Sanasar is to travel in your own vehicle. The other option would be hiring a taxi from Jammu (119 km). Jammu Tawi is the main railhead at Jammu and is well-connected with all other major cities of the country. Taxis are available from Jammu at reasonable rates.