Jammu & Kashmir Information
Home
Jammu & Kashmir Information
Music and Dance
Kashmir Music and Dance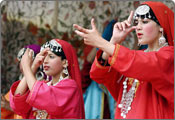 If you are interested in watching some of the most captivating traditional folk art forms in India, J&K is one of the best destinations. The performing arts in J&K are based on true expressions of life. You can observe special songs and dances for almost all occasions such as birth celebrations, wedding ceremonies and crop harvesting. These innovative dance forms and melodious numbers are attached with distinct features of age old tradition and deep ethnicity.
The culture of Jammu and Kashmir is an interesting reflection of color, zest, harmony and unity in diversity. Not only the demographic variations, but also the cultural diversity of Jammu, Kashmir and Ladakh are counted as remarkable in performing arts.
Music
Nationalistic And Sufi Music
Kashmir was, earlier, a predominantly Hindu state and most of the people belonged to the Brahmin caste. Therefore, you will notice a touch of 'nationalistic' music here. The traditional folk songs depict mythological tales about Brahmin Kashmiri heroes.
After the arrival of Muslims, another traditional music 'Sufi' (influenced by the Islam) was introduced to the state. The two-day annual festival Spitok Gutor Zanskar plays a form of Kashmiri folk and Sufi based music mixed with metal with a nationalistic message. Their music focuses on tales about old Brahmin, Buddhist, and Sufi legends.
Folk-Classical Music and Instruments
The traditional Kashmiri music is characterized by the harmonized vocals and various instruments. A few major forms:
Hafiz Nagma is a wonderful performing art, which is based on the classical music of Kashmir- the Sufiana Kalam. The instrument used in Hafiz Nagma is called Santoor, the most popular folk instrument (played by Goddess Sharada, the goddess of learning). Sufiana Kalam has been popular in Kashmir since the 15th century, when the Iranis arrived here.  The Santoor is a hundred stringed instrument that is played with sticks.
Rabab is a popular folk music of Kashmir. It includes musical instruments like nagara, dukra and sitar.
Geetru is performed at the time of festivals like rural weddings and other social festivals. It is popular in Dogra Pahari area of Jammu valley and includes dance as well as singing. Both the sexes take part in this art format, which continues throughout the day and night.
Henzae is another music style performed by Kashmiri Pandits on religious and cultural festivals.
Ladishah, a sort of spoof/parody, are humorous songs based on the present social and political conditions. The singers move from village to village performing during the harvesting period.
Dance
The Hafiz Nagma of the Sufiana Kalam has a dance style- Hafiza, performed on the respective music pattern.
Surma is an interesting and emotional dance, which reveals the frustration of a newly married bride whose groom has gone in the war.
Rouf is one of the most famous conventional dances performed by the women of Kashmir region. This group dance is performed as a welcome dance for the spring season or during Ramzan and Eid. The song that plays in the background, is in the form of questions and answers, where one group questions and the other responds to it in a rhythmic way.
Kashmiris are popular for performing Dandaras dance during the Lohri (Makarsankranti) festival. It is  a n energetic and professional dance, in which every group carries a model of peacock (made of bamboos and colored paper), and every member has a stick in his hand, which is clicked with the adjacent person's.
The people of Wattal region are expert in performing the Dumhal. This illustrious dance is a typical theatre based art which is a unique blend of dance and marriage songs.
Bacha Nagma Dance is quite popular during marriage ceremonies or any cultural celebrations. The dance is performed only by boys or by men, dressed as boys. The attire/outfit has a resemblance with the dress that is worn by Kathak dancers. It is a group dance with one lead singer.
The region of Ladakh is known for some local dance forms. If you plan on visiting beautiful Ladakh, try exploring the traditional culture of the local people through the
Kompa Tsum-Tsak
(meaning three successive steps),
Jabro
(dance steps from Western Ladakh),
Chaams
(Sacred dance by Lamas),
Chabs-Skyan Tses
(Dance carrying a Pot),
Raldi Tses
(Dance with a sword) and
Alley Yaato
(Zanskari Dance and Song Sequence).