Hotels in Katra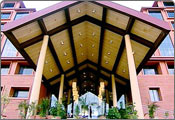 Katra town, the base camp for visiting the famous shrine of Shri Mata Vaishno Devi, lies at the foot of Trikuta Mountains, 48 kms. from Jammu. People walk to the cave shrine of Mata Vasihnodeviji or Trikuta Bhagwati to ask for a boon and rarely go back disappointed. It is one of the most revered places of worship in Northern India. Some 5 million pilgrims pass through Katra every year. Being a popular destination, Katra offers a number of hotels to facilitate the pilgrims. A few of them are listed below:
The White Orchid
The White Orchid is a 5 star pure vegetarian hotel, therefore one can avail every kind of modern and luxurious facility at this hotel. Services are undoubtedly up to the mark. Located at the base of the Vaishnovdevi shrine, the hotel offers a splendid view of the valley from one end, and the mountains from the other. The White Orchid hotel offers 200 well appointed elegant rooms with all the amenities like AC, attached washrooms, safe, dressing table, direct dialling phone, 24 hr room service and so on.
The speciality of White Orchid lies in its Multi Cuisine pure vegetarian restaurant and the coffee shop. Its 24 hr coffee shop is a perfect place to sit in tranquility amidst the forested hills, and the multicuisine restaurant serves all kinds of delicious north-Indian vegetarian dishes.
Country Inns And Suites

Established on international standards, the Country Inns & Suites is located just outside Katra town. The hotel covers 9 acres of beautiful lush green landscape and offers a scenic view of the holy shrine of Vaishnodevi. Country Inns and Suites offers 77 centrally air conditioned beautifully appointed Luxurious rooms. One can have his desired type of meals at the 24 hr multi-cuisine Vegetarian restaurant 'The Maple'. Besides, 'Trikuta' is the tea lounge serving choicest of flavored teas and accompaniments.
The hotel is equipped with all sorts of modern facilities like health club 'Revive' with massage, steam & jacuzzi, the activity centre 'Re-create', conference hall 'Shalimar', canquet facilities, day care facilities for children, in-house movie library, multilingual hotel staff etc. There is a small playground for children along with an amphitheater, and a Havan-Kund to facilitate the pilgrims.
Hotel Jai Maa Inn

Hotel Jai Maa Inn, a four star luxurious unit, offers a warm and comfortable ambience and extraordinary services in its class. Its 46 spacious rooms are categorised in air conditioned and luxury suites. Along with round the clock room services, the hotel provides all the basic amenities like telephone, CCTV, doctor on call, in house laundry, internet/fax/e-mail, travel desk, shopping arcade etc. Guests can avail the pick and drop facility to the airport, railway station or any other spot.
There is a gift shop 'Nazrana' and a banquet hall 'Darbar Hall' in the lush green lawns. When it comes to food, the multi-cuisine air-conditioned restaurant serves world class pure vegetarian food. Different kinds of Indian, Chinese, South Indian & Continental dishes are prepared without onion and garlic.
Hotel The Vaishnodevi

Situated at the foot of the mighty Trikuta Mountains, Hotel The Vaishnodevi offers a splendid view of the snowy Pir Panjal Peaks in the west, forested hills in the east, and green fields and hotel lawns in the south. The hotel provides a pleasant stay to its guests at a great location, 50 km from Jammu, covering about 40,000 sq feet lush green and pollution free area. There are 40 elegant rooms that are classified into standard and executive as well as Honeymoon and Royal Suites.
The hotel welcomes its guests with traditional hospitality and offers high-end magnificent facilities. The multi-cuisine pure vegetarian restaurant, The Manisar, offers almost all kinds of Indian and continental dishes prepared without onion and garlic, by the expert chefs. Along with indoor games facility, recreational activities and a well stocked library, Hotel The Vaishnodevi has a huge shopping arcade wherein one can find shops for Pooja items, Kashmiri Handicrafts, Beauty Parlour etc.
Hotel Asia Vaishnodevi

Asia Vaishnodevi is counted among the aristocratic hotels in the region. Located in the heart of Katra, the hotel is situated about 50 km from Jammu city. Being easily accessible and good at services, Hotel Asia Vaishnodevi is preferred by both devotees of Maa Vaishnodevi and those dedicated to adventure sports. This elegant hotel offers cosy and comfortable rooms, and warm hospitality at reasonable rates.
The in-house restaurant of the hotel specialises in various north, and south Indian dishes in a purely vegetarian style. The food is undoubtedly delicious, hygienic and prepared without onion and garlic. Apart from all the basic and modern facilities, the hotel offers assistance for local sight seeing trips to nearby destinations. Arrangements for recreational activities include the heated swimming pool and gym. The warm water of the pool and several other indoor activities are enough to refresh your mind and soul.
Besides these, the lower region has plenty of other three/two star rated and budget hotels. A few of them are:
Hotel Asia Sripati (Three Star)
Hotel Basera (Three Star)
Hotel Devi Grand (Three Star)
Bhawani Z Paradise Hotel
Hotel Mount View
Katra hotels amidst extraordinary natural surroundings are perfect for peaceful holidays. Almost all of these hotels are located on the major route linking the town with Jammu. Buses and taxis are frequently operated on the route from the airport and railway station.