Jammu & Kashmir Information
Home
Jammu & Kashmir Information
Handicrafts
Jammu Kashmir Handicrafts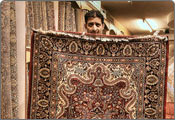 Kashmiri handicrafts exhibit extraordinary intricacy and skill. The workers in Jammu-Kashmir have expertise in making carpets, baskets, wall hangings, and other handicraft items. You can also find a variety of wooden work, silverware and shawls with unmatched embroidery.
This flourishing handicrafts industry of Jammu & Kashmir not only offers you wonderful items, but also employs several tribal as well as general folks of the valley.
Carpet
Kashmiri carpets have been appreciated since a long time for their intricate work. Their uniqueness lies in their manufacturing. These carpets are purely handmade, and are knotted, not tufted. You can choose different carpets from a variety of silk, woolen or silk. These are designed in colourful themes which can not be found anywhere in the world. The main art of carpet manufacturing is associated with the knotting part. These knots determine the durability and value of the carpet, in addition to the design and pattern. The more knots per square inch, the greater is the value and durability of carpet.
Namdas
it is a lighter version of original carpets, stitched by using cotton and woolen textures. The price of these colourful floor coverings vary with the percentage of wool. A namda containing 80% wool will definitely be more expensive than one with 20% wool. The major difference in carpets and namdas lies in the price. While carpets are quite expensive, Namdas are available at affordable prices. Namdas are generally made by chain stitch embroidery, in woolen and cotton thread.
Shawls
Kashmir's Pashmina shawls are world famous. Its fabric is extracted from the smooth fleecy wool of Kel goat. The local women who work as handloom artisans, extract this wool and knit with colourful threads.
A less expensive shawl is the Jamavar shawl. It is made from the dyed threads, in various themes, designs and figures.
Basketry
Willows (trees with narrow leaves and catkins)  aesthetically unique items such as  shopping baskets, lampshades, tables and chairs etc etc. These trees are found in the low lying waterlogged lands or near the lakes.
Papier Mache
Kashmir is popular for its three different grades of Papier Mache work. It is manufactured from wet and crushed paper, by moulding it to the desired shape. It is dried and painted for a final touch-up. They are distinct in artistry and colours. The most expensive one has gold work and you can also find those with bronze dust or gold poster paint. Varnish, which is applied to the finished product, imparts a high gloss and smoothness to the papier mache.
While exploring the lifestyle and specialties of Jammu and Kashmir, you can also find several other handicraft items made of
Walnut Wood
(handmade wooden products)
,
Copper and Silverware
(samovars, bowls, plates and trays) and
Embroidery
(locally called
Kasida
; considered the finest in the world).