Adventure Sports in Jammu & Kashmir
Jammu & Kashmir Adventure and Sports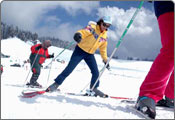 "Why did I climb the Everest?
Because it was there !!"
[George Mallory]
The spirit of adventure and desire to explore leads us to scale mountains and dive deep in the oceans. J&K is one the most sought after destinations in India for adventure activities. The foothills of Jammu, the magnificent mountains of Ladakh, and the lakes and valleys of Kashmir that soar high into the skies offer a number of activities for people of all age groups. In fact, every region of the state offers a number of adventure activities depending on the geographical structure and climatic conditions.
Water Adventure Sports/Activities
The lakes and rivers of Jammu and Kashmir are mostly fed by melting glaciers. At high altitudes, these waterways are fast paced. A few of them make their way through the rocky landscapes of Zanskar and Ladakh, perfect for White Water Rafting. The river Indus and River Zanskar are the major rivers that are used for Wild Water Rafting, Parasailing, and Swimming. Pahalgam is one of those locations, where facilities for Angling, Canoeing and Kayaking are provided. The most popular activity in the lakes of J&K is Trout Fishing. If one seeks peaceful and relaxing holidays, Dal Lake and Nagin Lake offer a wonderful experience of living on Houseboats and Shikara Rides for local sightseeing.
Land Adventure Sports
The mystical lands of Zanskar and Ladakh, are the best places for Mountaineering and several other sports. The snowy slopes and rocky mountains are perfect locations for Skiing and Trekking. The steep hills of the Himalaya and Karakoram range are equipped with all the facilities relating to these sports. Gulmarg is a world famous hill station for skiing. The route of Sonmarg to Pahalgam is covered with dense alpines, ideal for trying out Alpine Skiing. Apart from this, sports like Cross Country Skiing, Snowboarding and Ice Skating have unlimited possibilities in the entire Kashmir valley. In Ladakh and forested hills of Jammu, one can enjoy Bungee Jumps, Mountain Cycling, Jeep Safaris and Cave Exploration. Apart from all such adventures, Gulmarg has one of the world's highest green golf courses.
Aero Sports
Sports like Paragliding, Hot Air Ballooning, Air Surfing and Sky Diving are becoming increasingly popular with the youth. Zanskar, Sanasar and few other parts of jammu are hot spots for hot air ballooning. One can find several training camps that are set up for Paragliding.
These adventure activities can be endorsed in any season. Jammu and Kashmir, the paradise on earth, is not only about natural beauty and romantic weather, but the best adventure sports.