Adventure Sports in Jammu & Kashmir
Skiing and Heli Skiing in Jammu & Kashmir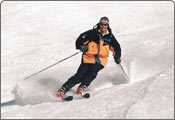 Skiing is a major sport among adventure enthusiasts that has become one of the most popular recreational activities in this century. Skiing is gaining huge recognition in the state of J&K because of the presence of the mighty Himalayas, a perfect location for this sport.
Sliding over snow with the help of flat runners (skis) - which are attached to the boots or shoes - is an activity that makes your holidays memorable for a lifetime. These skis are used by the skiers to balance their body and maintain velocity. December to April is considered the best season for skiing in Kashmir. Gulmarg, Pahalgam, Patnitop etc. are the important skiing destination in Jammu and Kashmir, where tourists can enjoy the sun and the snow.
Gulmarg- The Heaven For Skiers
The best skiing base in the Himalayas, Gulmarg was first founded by the British in 1927. The town enjoys the position of being one of the highest lift-served as well as cheapest ski resorts in the world. Ideally acceptable for learning skiing, Gulmarg offers a Gandola Cable Car Lift from Gulmarg to Apharwat top. Earlier Gulmarg used to organise two main events, one each during Christmas and Easter. As the sport gained popularity, Gulmarg started hosting National Competitions for the same. The first National Winter Games of India was held at Gulmarg in January-February 1998.
The Ski Club of India was established in Gulmarg in 1927. Located 50 km from Srinagar, at an altitude of 2,730 m, Gulmarg draws ski-lovers from all over the world. While holidaying here, one can try out this activity under the supervision and guidance of trained and experienced instructors. There are several Government-run ski shops, which provide skis, boots, sticks, gloves, goggles and other equipments.
Heli-Skiing
Kashmir boasts of having Asia's only heliskiing resort. Gulmarg, also offers heliskiing for winter sports lovers. Being dropped by a helicopter on the summit of a high, snow-covered peak and then skiing down the slopes is truly an out-of-the-world experience. Heli-skiing is considered the most thrilling, terrifying and risky winter sport.
Apherwat Peak, Gulmarg, is the main heli-skiing base in Kashmir. After Canada, it is the best destination for heli-skiing lovers. This exhilirating sport is a recent addition to Kashmir.
The place offers Toboggans, Sledges, T-Bars & Chair Lifts, and Snow Cycles for various other activities. People also visit the place for fishing, trekking, golfing, water sports and other less adventure activities for a bit of enjoyment and fun.