Adventure Sports in Jammu & Kashmir
Kashmir Trout Fishing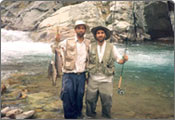 The beautiful geographical variations of the state of Jammu and Kashmir, along the course of each river and lake, offer endless possibilities for anglers. The various waterways, crisscrossing the state, are important fishing retreats rich in trout. The state of Jammu and Kashmir is known as a paradise for fishing enthusiasts. The streams and lakes have plenty of brown and rainbow trout, but it is necessary to have a permit to go fishing. The credit for introducing these brown and rainbow trout to the streams of Kashmir goes to the British.
The wide silvery network of rivers and streams as well as high altitude lakes, including Sind and Lidder Rivers, Dal Lake, Jhelum River, etc. abound in trout- both brown and rainbow. The region with pure mountain air, serenity, tranquility, lush meadows and magnificent clear lakes with a series of tributaries and streams offer the best experience of trout fishing. Most of these rivers are covered with snow, which start melting between the months of May to July. The activity is a once in a lifetime experience.
Kashmir's trout fishing is relatively cheaper than any other part of the world. Moreover, the
Department of Fisheries
works hard to prevent the depletion of fish stock by indiscriminate fishing. The main fishing business starts with the arrival of spring and summer (the season is from April to October). Local guides accompany amateur fishing enthusiasts on Shikaras and teach them how to net fish. After an amazing experience of trout fishing, one can enjoy night camping and bonfire near the rivers/lakes along with delicious meals.
Hot Destinations
Tourist Attractions