Adventure Sports in Jammu & Kashmir
Golfing in Jammu & Kashmir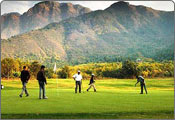 The 'Switzerland of the East', Jammu & Kashmir, offers outstanding opportunities for golf players all through the summer (April to November). Golfing in Jammu and Kashmir is always a delight and one of the main attractions among the tourists. Along with a number of adventure sports, Kashmir boasts of having one of the world's highest green golf courses, as well as a clubhouse, at Gulmarg. Kashmir is known for some of the greatest and most celebrated golf courses in the world, surrounded by chinar and pine trees.
Major Golf Courses and Clubs at Kashmir
Gulmarg Golf Club was established in 1904, by Sir Neville Chamberlain. Later it was redesigned by the famous golf architect, Peter Thompson. Gulmarg Golf Club has one of the highest golf courses in the world. Its 6760 yards long golf course, par 72 with 18 holes boasts of having India's longest hole, a par five, 610 yards. The club provides proper facilities of a bar, library, lounge, table tennis, lawn tennis and lots more. The golf course is generally active in the months of April to November.
Kashmir Golf Club, 3730 m above sea level, is another popular destination among golfers. Located near Maulana Azad Road, the City's main avenue, it has an 18-hole professional golf course, spread over 52 sprawling acres of lush greens. The course has all kinds of excellently fitted equipment that makes playing golf an unforgettable experience.
Golfing is a sporty rejuvenation at Royal Spring Golf Course. The huge golf course,  covering an area of about 300 acres, is built near the famous Cheshma Shahi Gardens overlooking the picturesque Dal Lake. The Royal Springs Golf Course was designed by the world famous Golf course architect, Robert Trent Jones Jr. II. Robert is credited for designing about 500 golf courses all around the World. The perfect location of Royal Spring, against the scenic backdrop of the Zabarwan hills, provides a, exhilirating experience to the golfers and nature lovers.
Gulmarg and Srinagar are the best spots where one can find the world's most refreshing golf courses. One can play for longer hours in these golf courses in comparison to that of the plains because of the lower temperature at higher altitudes.
The golf courses are well equipped with facilities for both beginners and experts. Proper instructors are available for beginners. The J&K tourism department provides all kinds of facilities for travellers and golf lovers.