Adventure Sports in Jammu & Kashmir
Jammu Kashmir Water Skiing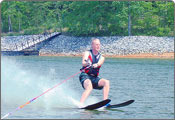 Water Skiing, like Ice Skiing, is a major extreme sport in the state of J&K. The sport is a major attraction for water sport lovers to make a splash on the watery. Sliding over the water surface requires balancing on the ski board, somewhat similar to surfing. Although water skiing is an expensive sport, it has tremendous potential in the tourism sector.
The Dal and Nagin lakes in Srinagar and the Manasbal Lake (32 km from Srinagar) are the most popular destinations for water skiing in the state. Tourists can hire 'bathing boats' along with motor launches, water-skies and trained instructors at the Dal Lake. Trained instructors and all such facilities are also available at the Nagin Lake. It has a larger number of bathing boats, and a government-run Institute of Water Sports too. Nagin lake is more popular for water skiing because of its clean water. Apart from this, another natural treasure located in isolation is the Manasbal Lake. The lake, surrounded by the hills on three sides, displays a mirror like sheen on its surface making it an attractive water sports resort. One can avail all sorts of latest water skiing equipments as well as specially trained instructors at Manasbal Lake.
Specially designed skis are fitted with flexible rubber foot bindings on the upperside, and fins on the underside to provide stability while sliding over the water surface. These fins also help the skier to take sharp turns. Bare foot skiiing requires very high speed motorboats. Because of the absence of high speed motorboats, it is not possible in Kashmir presently.
Inter-School, Inter College and even National Level competitions are organised to promote the sport and make it popular in India. The
J&K Water Skiing Association
also organises training camps and competitions every year. The lakes are pleasant throughout the
summer season
for water skiing.
Hot Destinations
Tourist Attractions