Adventure Sports in Jammu & Kashmir
Paragliding in Kashmir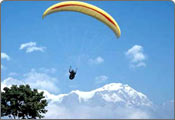 Paragliding is picking up very fast, and is the most popular aero sport in Kashmir. Gliding high above in the sky, along with a marvellous view of the green valleys and majestic mountains of Kashmir, is simply an extraordinary experience. Watching the valley from the sky is a breathtaking experience.
Paragliding is a technical aero sport, in which one glides high above in the air with artificial wings. These wings, made of nylon or Dacron cloth and fabricated into a series of air inflatable cells, weighing about 15 pounds. The entire system is fitted in a corner of the trunk of a car, or on a backpack that one can take with him/her on a hike. The activity sounds thrilling, and is actually fun while performing.
One can avail the
adventure clubs at Jammu, Sanasar, Batote, Suru Valley
or the
Zanskar
area to enjoy a number of such sports and challenging activities, including
Hot air ballooning or parasailing
at an organised level. Apart from such clubs, proper
training camps
are also organized for amateurs. There are various tourist offices or local agencies that provide equipments for paragliding and other sports on rent. May-June and September-October is the best time to enjoy paragliding in J & K.
Hot Destinations
Tourist Attractions