Adventure Sports in Jammu & Kashmir
Jammu and Kashmir River Rafting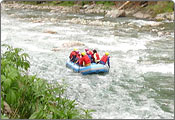 Jammu and Kashmir is a complete package tourist destination in terms of natural beauty, historical monuments and even adventure sports. Having some of the most renowned rivers, lakes and waterways, J&K offes the best water and adventure sports. River Rafting is among those wonderful sports that take you to great heights in the Himalayas, from where the snow-fed rivers tumble down to the plains of India. The sport attracts a number of domestic as well as international tourists. If you are the one who loves thrill, excitment, speed and adventure, river rafting is the perfect sport for you.
The state has several river-rafting clubs that offer the thrill of rafting in the fast flowing mountain rivers. Experienced trainers are also available. Summer is the best season to try out this sport. As the snow melts in summers, the volume of the river water increases. The rivers like Beas, Sutlej, Chenab, and Spiti are the best for rafting. One needs to take prior permission from the government authorities to go river rafting in the region. The challenging river rafting destinations in J&K are comparable to the best in the world.
River Indus, Ladakh is one of the most sought after place for rafting. Several rafting trips are organised at Indus by travel agents and operators between June and August, when water levels are high.
River rafting in other tributaries of the Indus, surrounded by landscapes with snow-covered mountain peaks, deep gorges, hillside villages, and towering hilltop monasteries, offer wonderful rafting options. One can have glimpses of the unique wildlife too near these waterways.
For professional rafters, the white water stretch of the Indus between Spituk and Nimu or Saspol is ideal. It is ranked 2 or 3 in the international river grading scale.
Upstream of Spituk, there is an easy stretch up to Karu that is perfect for the beginners.
From Nimmu to the ancient temple complex at Alchi, there is also a popular rafting route.
Professionals prefer going to another more challenging route between Alchi and Khalsi.
The rafting route of the Zanskar River, between Padum and Nimu, is one of the most difficult and wild but enthusing rafting options.
River Lidder has few memorable rafting stretches.
Pahalgam region in Kashmir also has a few white water rafting routes surrounded by lofty mountain ranges.
It is recommended to take expert rafters and all the essential gears and equipment while going for river rafting at higher altitudes. Rescue back-up is very essential for this white water expedition.
Hot Destinations
Tourist Attractions