Adventure Sports in Jammu & Kashmir
Mountaineering in Kashmir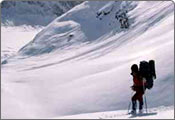 Background
Mountaineering, in India, came as a sport in the 18th century with the Europeans. During that period, the entire Europe indulged in exploring new regions. Earlier, this activity was meant to climb difficult heights and terrains to meet people across the border, to trade, or to conquer new territories. The zeal of taking up challenges led man to accept this daring and adventurous activity as a sport. For the purpose, the Himalayas proved to be most suitable destination. New heights were conquered and new routes were discovered. Today, people have started taking mountaineering as a serious hobby.
Mountaineering In India
The challenging peaks of the Himalayas offer endless adventure, cultural learning and recreational opportunities. Mountaineering in the Himalayas on some of the world's greatest peaks is a lifetime experience. Kashmir, Zanskar, Kishtwar and Ladakh are the four zones in the state of Jammu and Kashmir that are important for mountaineering. Pahalgam, Gulmarg, Sonamarg and a few other places serve as the base camps for tours to the mountain peaks. Scaling high altitude mountains is gaining popularity among the youth. Even amateur mountain climbers wish to enjoy mountaineering trips and expeditions. One needs to take permission from the Government of India through the Indian Mountaineering Foundation (IMF) for mountaineering in Kashmir.
The months of May to October are considered best for mountaineering in J&K. With the constantly growing tourism industry, and craze for adventure sports, the peaks in J&K are frequently visited by the tourists. Nun and Kun, popular romantic-adventurous peaks, in Zanskar region are renowned summits with the mountaineers. Lahaul and Spiti in Leh also have several challenging peaks. Nubra Valley, about 10,000 feet above sea level in Ladakh, is also frequently visited by adventure enthusiasts. The mountains vary in their altitude and even geographical structure (snowy or rocky). The most popular mountaineering peaks, categorised in different zones, are:
Zanskar region: The famous peaks of Nun 7135m, Kun 7077m, White Needle 6500m, Pinacle 6930m and Z-1 6400m. Besides, Z-2, Z-3, Z-8, D-41, N-8, and Bien Guapa are a few other peaks ideal for mountaineering.
Ladakh region: Stok Kangri 6153m, Parcha Kangri 6065m, Kanglcha 6700m, Gulap Khangri 5900 m, Matho West 5950m and Kantak 5275 m.
Kishtwar region: Sickle Moon 6575 m, Riger 6,001m, Brammah-I 6416m, Crooked Finger 5630m, Arjuna 6230m, Katori 6138m and Flat Top 6100m.
Kashmir Valley: Kolahoi, Harmukh, Tattakuti, and Sunset (highest peak in the Pir Panjal range).
Sonamarg: Kolahoi 5425 m and Harmukh 5148 m.
For the amateurs, there are a number of un-named peaks in the altitude range of 5,500 metres and 6,400 metres in the same regions.
These mountaineering tracks pass through green forests, waterfalls, pilgrim routes and other splendid locations. While mountaineering, one can explore the monasteries and villages at an altitude of about 13,000 feet in Ladakh.

There are certain guidelines to be followed for mountaineering. The sport should normally be undertaken by the people between the age group of 18 to 48 years. It can be dangerous for the people suffering from high/low blood pressure, asthama or overweight. One should get his/her medical fitness test done before hand and should learn how to deal with high-altitude sickness. It is suggested to carry necessary medicines and not to try mountaineering before proper training.