Hill Stations in Jammu & Kashmir
Aru Travel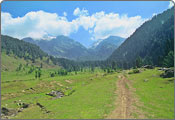 Location: 107 km From Srinagar Via Pahalgam (11 km), Kashmir Region.
Best Time To Visit: May To September in Summer and November To February in Winter.

Conifer spread mountains, snow covered peaks with golden sun rays against the blue sky, and the shaded valley of the Lidder river form the identity of Aru. A popular hill station in the trans-Himalayan region, Aru is basically a vast grassland that is surrounded by a narrow valley or ravine on one side. The blooming nature amidst cool climate makes the still and serene Aru one of the most beautiful hill resort of Kashmir. Like all other hilly areas of J&K, Aru also offers you a wonderful view of water reserviors and mountains. In Aru, the most beautiful part lies with the small village houses made of wood and stone. Aru is the perfect destination to take a break form the pollution, dust and stress of city life at an altitude of 2708 metres.
Aru Attractions
The 24 km long trekking route to the Kolahoi glacier (the head of the Lidder Valley) at an altitude of 3,200 metres is a major attraction at Aru. Lidderwat meadow is another popular track for trekking. While trekking one can have the view of this stunning place and even the romantic sunset from a high hill.
Overa Aru Biosphere Reserve is a nice place to hang out to spot some rare and endangered animals. This Biosphere Reserve is surrounded by thick green forest, consisting Conifers, Abies pindrow, Cedrus deodara, Pinus griffithii, Aesculus indica, etc. along with several shrubs and herbs. The reserve inhabits endangered species of animals such as Musk Deer, Leopard, Hangul, Snow Cock, Monal, Brown bear, Koklas, Hare, Serow, Rhesus Macaque, Grey Langur, Himalayan Mouse, etc.
Where To Stay
One can accommodate himself in the grand tourist bungalow run by the state tourism department. Apart from this, a couple of budget hotels are also available in the region.
Getting There
By air:
Nearest airport is at Srinagar (107 km).
By rail:
Nearest railway station is situated in Jammu.
By road:
There are frequent services of buses and taxis from Srinagar to Pahalgam. After reaching Pahalgam, you need to hire taxi or pony or you can trek towards Aru.