Hill Stations in Jammu & Kashmir
Srinagar Tourism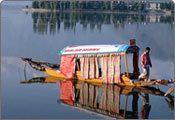 Location: Situated on the banks of the Jhelum River in Kashmir Valley.
Best Time To Visit: March to October (covering 3 seasons- spring, summers and autumn). December-March for winter sports suh as skiing.
Visit Srinagar, the summer capital of Kashmir, and you will surely fall in love with the charming and seductive nature. Srinagar, literally meaning "the city of wealth and abundance" in Sanskrit, boasts of a perfect location in the lap of the majestic snow peaked Himalayas. Srinagar's magical beauty, breathtaking landscapes, crystal clear waters, the village of shepherds, the world famous Dal lake etc. are the assets that attract people from the world around. The place offers a wonderful vacation far away from the noise and pollution of urban areas.
Major Attractions
While visiting Srinagar, visit the famous lakes. The popular Dal Lake is one of the most beautiful and visited lakes in the world. The lake surrounded by mountains, blossoming gardens and orchards, leaves you speechless. Try a pleasant ride in Shikaras and Houseboats. Subsidiary to the Dal, another famous water body is Nagin Lake, mostly visited for swimming, diving and boating.
As you walk over the Takht-e-Suleiman hill, you will find the Shankaracharya Temple. This temple, dedicated to Lord Shiva, is supposed to be the oldest shrine of Kashmir valley.
The landscaped Mughal Gardens are a paradise for nature lovers. Developed by the Mughals, Chashmashahi Garden, Nishat Gardena and Shalimar Garden are the three places that blossom with some of the rarest flowers in the world.
The nearby hilly areas provide opportunities for Fishing, Golf, Mountaineering, Skiing, Trekking, River Rafting, Paragliding, Aero Sports, Backpacking, Canoe Trips, Camping and Kayaking.
Food/Cuisine
Cinnamon, cardamom, cloves, saffron, and other spices are the identity of tempting and aromatic cuisine of Kashmir. The native people are very fond of several rice dishes and non-veg items, consisting of mutton, chicken, fish, etc. The famous Wazwan, an official feast, comprises of mostly non-veg dishes. A few famous non-veg dishes are: Rista, Seekh Kababs, Tabak Maz, Roganjosh, Yakhni and Gushtaba.
Shopping
Srinagar is not only about captivating natural beauty. It is known for a variety of handicrafts. You can shop for the unique Pashmina Shawls, Carpets, Papier-mache, Silk and Tweeds, Woodwork, Pherans, Metalware,Wall hangings with naqqashi work, Chain Stitch Embroidery, Cricket Bats and much more. All these hand-made items are unique and form an identity of the Kashmir valley.
Flora And Fauna
A very small area is covered by forests comprising of a variety of trees, providing a habitat for animals such as the musk deer, hangul, rhesus macaque, serow, langur, leopard, and leopard cat. Apart from this, bird species like Himalayan Snow Cock, Jungle Crow, Red Billed Chough, Griffon Vulture, Bearded Vulture, Himalayan Whistling Thrush, Rufous-backed Shrike and Indian Mynah can be seen near the Dal Lake and other water bodies and hills. The forest area also supports a few floral species including aesculus indica, pinus griffithii, abies pindrow, morus alba, juglans regia, etc.
Climate
When you are at an altitude of 1,730 metres, you are in the coldest region of India. In summers, the days are pleasant, and one can get by with light woolens or thick cotton clothes. But in winters, the area is covered with a thick layer of snow, and the temperature goes down to 0 degrees. Even the Dal Lake gets frozen. Spring is a good season for vacations.
Accommodation
Srinagar, being a prime destination in India, offers a number of luxury and budget hotels. You can also find a number of government-run hotels that provide all the basic amenities. For short holidays, try hiring a houseboat at Dal Lake for a different experience.
How To Reach:
By Air: Srinagar has a domestic airport connecting it to other parts of India.
By Rail: Jammu is the nearest ralhead.
By Road: J&K State Road Transport Corporation (SRTC), private Super deluxe buses or taxis.