Hill Stations in Jammu & Kashmir
Kishtwar Tour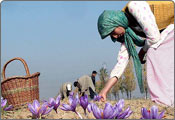 Location: On Jammu-Srinagar Road, district Doda.
Best Time To Visit: June to October.
Kishtwar is a renowned hill station, known for its natural beauty, rich history and art. Situated at an altitude of 1700m to 4800m, Kishtwar is connected to Srinagar by a trekking route, which goes through Banderkot, Dadhpeth, Mughal Maidan, Chhatru, Sinthan and Daksum. The town lies above the Chenab River and below the Nagin Sheer Glacier. Because of the large production of saffron, it is popularly called "the land of fine Saffron".
Major Atractions
The area is surrounded by several waterfalls that provide a splendid view. These waterfalls are visible from any part of the town. One of them drops from over 700 m height and offers a wonderful sight along with the crashing sound of water.

Coming to the religious aspect, there is a Hindu temple near the town 'Sarthal Devi Temple'. The temple is dedicated to an incarnation of Goddess Durga and has a shrine of 18-armed goddess. There are high altitude mountains of Nun Kun, Burmah and Barnag offer some important shrines including Ziarat Zain-Shah-Sahib, Farid-ud-Din Sahib, Hazrat Asrar-ud-Din Sahib, and Chandi Mata temple.
Blue Sapphire Mines of Paddar is another attraction near the town of Kishtwar. Located at an altitude of about 4000 metres, these mines were discovered in the 1880s.
Flora And Fauna
The place is covered with dense forests consisting of deodar, fir and pine trees. These forests also inhabit several endangered species of wild animals such as snow-deer, leopard, Neel Gai and musk-deer.
How To Reach
By air: The nearest airport is situated in Jammu (250-km).
By rail: The nearest railhead is situated in Jammu (248-km).
By road: The bus services are operated up to Plamer, which is a destination 20 km in the north of Kishtwar. After reaching Plamer, you need to hire a taxi or any other private vehicle to reach Kishtwar.
Till recently, accommodation with basic facilities was limited only to the PWD rest houses, but now, a few budget hotels /lodges have sprung up to facilitate the tourists.