Hill Stations in Jammu & Kashmir
Dha Hanu Valley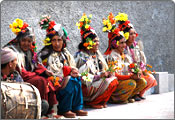 Location: Dhahanu valley, about 163 km southwest of Leh in Ladakh district.
Best Time To Visit: October to June.
The picturesque Dah and Hanu are the villages of the dards of Ladakh district. They are formally Buddhists but they also worship their own Gods. Situated on a comparatively lower altitude, the region is slightly warmer than Leh. This hill station is among the best places to spend quiet vacations. The secluded region on the far side of the great Indus River but attracts tourists interested in visiting the great Hindukush mountains.
While visiting Dha & Hanu, one may have a glimpse of the life of the Drokpa community, believed to be the last Aryan race. The divine and isolated natural beauty is the only attraction at Dah and Hanu. It can be visited in two days with nights spent in tents, which is actually a fun. A few budget hotels and J&K TDC bunglaws/resorts/guests can be arranged for accommodation, but these are located at a minimum distance of 100 km from Dah.
Arriving At Dah And Hanu
By air: The nearest airport is at Leh (around 170 km).
By rail: The nearest railhead is situated in Jammu.
By road: Bus service is not operational, but one can hire taxis from the Leh airport. Land route from Manali or Srinagar is also quite smooth.
Hot Destinations
Tourist Attractions