Famous Lakes in Jammu & Kashmir
Kashmir Dal Lake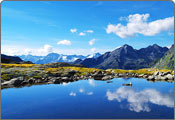 Visit the icon of Kashmir Tourism Industry- the Dal Lake, which boasts of being the most beautiful and most visited lake of the state. This beautiful lake with multi-faceted ecosystem, is the  second largest lake in the state, and covers an area of about 18 sq km. It is popular for unique houseboats and shikara rides that form the identity of the lake. Apart from the houseboat and shikara rides, one can enjoy kayaking, canoeing, water surfing and licensed angling on the lake with the prior permission of the lake authority.
Scenic Beauty
The lake is encircled by magnificent mountains on three sides. This Himalayan lake has five basins and several channels, which are well linked with each other. The blooming Mughal gardens and orchards on the banks contribute a lot to the beauty of the Dal Lake. These colourful gardens and lawns were established in 16th and 17th century, but the tourism department has still maintained the natural beauty of these lawns.
The flora of the lake includes lotus, lillies and water chestnuts. While on a boat ride in Dal Lake, one may also notice birds like kingfishers and herons. If you plan to visit the Dal lake in summers, you might find it laden with lotuses while in winters you might find the lake frozen and covered with snow.
Houseboats and Shikara
Houseboats, an incredible part of the Dal Lake's scenic beauty, offer a romantic and peaceful ride and stay to their guests over the rippling waters. One can have a wonderful view of the blooming gardens and orchards around the lake from these houseboats. Basically these houseboats were the vacation homes built for the British when they were prohibited to own land by the maharaja of Kashmir.
Living on water, in a cedar-panelled elegant room with all the luxuries and amenities of the star-rated hotel, is the most adventurous and romantic part of the Dal Lake. The tourism department has graded these houseboats A, B, C and D depending on the standard of luxury, services provided and the number of rooms. A few houseboats offer free shikara rides to the closest ghats too. A shikara ride is simply a boat ride from the bank of the lake to the houseboats. It does offer the opportunity to see the exotic flora of the lake, along with the fish.
Truly said, the Dal Lake is a jewel in the crown of Kashmir...