Famous Lakes in Jammu & Kashmir
Trip to Tso Moriri Lake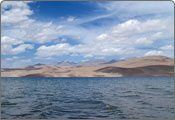 One of the highest lakes in the world; the largest of the High Altitude Lakes in the trans-Himalayan biogeographic region, entirely within India; designated as a Ramsar Site because of its unique wetland- that's not all about this picturesque lake in the elevated district of Rupso. The place lies at a distance of about 137 km from Leh. The enhanting Rupso valley comprising Tsomoriri lake is occupied by the local shepherds 'Changpas'. Tourists mostly visit Tsomoriri Lake in summer, as it is considered the ideal season for the marvellous natural beauty in the Rupso Valley.
Organising an overnight camp around the lake side is the most enjoyable and entertaining activity of the place. Tsomoriri or 'Mountain Lake' is surrounded by peaks at a height of about 6000 metres. Covering an area of about 120 sq.km., the lake comprises of a maximum depth of 40 metres that inhabits a variety of aquatic animals and flora species. The area and the lake side greens are rich in wildlife. Tsomoriri was announced a Ramsar Site in November 2002  being a distinct wetland in the Trans-Himalayan biogeographic zone. One can easily spot more than 40 species of water birds and animals like Kyang (wild ass), red fox, snow leopard etc.
For religious purposes and architectural beauty, one should visit the monastery of Korzok. The monastery offers a wonderful sight of the country-side and more than 350 years old Buddhist architecture. Visit the nearby  village of Korzok, consisting of about a hundred families. On the way back to Leh, one can find several other monasteries like the Hemis, Thiksey and Shey.
The lake is encircled by Ladakh in the North, Tibet in the east and Zanskar in the west, therefore providing a sensational and superb natural view of hills.
Hot Destinations
Tourist Attractions