Famous Lakes in Jammu & Kashmir
Tsokar Lake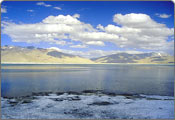 Tsokar Lake is a well known salt lake in the state of Jammu and Kashmir, located near Rupso in Leh district. Spotting a white water lake surrounded by several hot water springs at an altitude of about 5000 metres is simply a wonder of the nature. Tsokar, the salt water lake, covers an area of about 10 sq km.
The lake is a part of the Salt Lake Valley, which covers an area of around 140 sq km. and is at a distance of 45 km northwest of the Tsomoriri Lake. Tsokar Lake shares a beautiful landscape with the fresh water Panluk Lake in this Salt Lake Valley. The local shepherds 'Changpas' can often be seen collecting and extracting salt from the Tsokar Lake to distribute it to the other parts of the state. On a trip to various lakes and valleys of the state of J&K, you may travel another 22 km east from the Tsokar Lake to visit the Puga Valley, which is famous for its borax and sulphur deposits and hot water springs. These hot water springs are considered to have several medicinal elements that can cure skin diseases.
The heavy amount of the salt in the lake makes it look like a 'White Lake', which is basically the main element of its charm and attractiveness.
Hot Destinations
Tourist Attractions