Famous Lakes in Jammu & Kashmir
Pongong Lake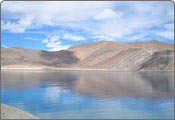 Come to the border between India and China at 14,500 ft and make yourself feel so close to nature and environment as never before. With beautiful landscapes in the backdrop and unforgettable scenery, this famous blue brackish lake of Pangong extends from India to China. The best part of the Pangong are the various blue shades of the water. This salt water lake is truly a photographer's and geologist's delight.
The 160 km drive from Leh to Pangong lake may seem to be bone rattling, but the soul gets actually relaxed by seeing the calm and panaromic lake, about 6 km wide and about 144 km long. Despite beinga salt water lake, the lake freezes completely in winter. This heavenly place offers a unique solitude to enjoy your vacations near the cool colourful water of the lake and black-necked Siberian cranes all around. Several villagers can be seen with their large herds of Pashmina sheep and long-tailed yaks in the nearby landscapes of the lake.

While visiting the Pangong lake, one can also head towards the Darbuk village near Tangste Valley, which is famous for a chain of war memorials with regimental insignias to pay a tribute to the soldiers who died in the Indo-China war of 1962. The most scenic part in the village is during sunset and  moonrise. The neighbouring majestic Chushul Mountains are another major attraction. Today, tourism at the Pangong lake is active under the army surveillance.

Leh is the nearest air base, from where you need to hire a taxi.  While moving from Leh to Pangong, one may get a chance to visit the Thiksey village (famous for its huge monasteries). The sparkling lake in various shades of blue, green, purple and violet is meant for nature lovers.
Hot Destinations
Tourist Attractions