Famous Lakes in Jammu & Kashmir
Nagin Lake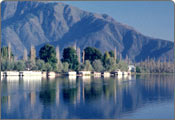 An unbelievably romantic experience of houseboats, swimming & water skiing !! Visit the foothills of the mountain Zabarwan in the east of Kashmir for the Nagin Lake. This isolated and charming lake is an offshoot of the Dal Lake. Sitting in the shadows of the lake Dal, it is surrounded by the Shankaracharya Hill (Takht-e-Suleiman) on the south and Hari Parbat on the west.
The actual scenery and beauty of the place is very appealing because of the willow and poplar trees alongside the lake. Moreover, the popular houseboats and shikaras are another fascinating feature of the lake. While on a trip to kashmir, one can hire a houseboat in the Nagin Lake for accommodation and can stay on water for several days and weeks. These boats are equipped with all the modern facilities including bedrooms, washrooms, launge, dining area, electricity etc.
Shikaras can be seen ferrying people to and from the lake. Boating cruises on a shikara amidst the steep mountains is an unforgettable experience. The water stays cool from May to September, so one can hire bathing boats as well as water-skis and motor launches at the Nagin lake. While on a shikara ride or staying on a houseboat, you can see the local people selling flowers, Tibeten jewellery, carpets, handicrafts and many more items on their boats in the lake. This lake witnesses  heavy crowds of tourists in the months of June To August. Since this small and deep blue lake is less polluted, it is safe for swimming. This gentle lake gives a romantic feel while travelling on water.
Hot Destinations
Tourist Attractions