Famous Lakes in Jammu & Kashmir
Surinsar Lake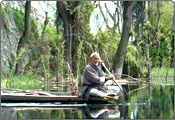 Come to the Surinsar Lake to spend quality time in the water based lotus garden. This beautiful lake, situated about 42 km from Jammu is bordered by hills and dense forests. The lake is a great picturesque spot in summer when the surface is covered with countless lotus flowers. The hills in the backdrop of the lake separate it from the urban areas and provide a calm and divine feel.
According to legends, when Arjuna (the hero of the epic Mahabharata) shot an arrow to the Mansar land, the arrow pierced the earth and came out through a place in Surinsar. Therefore, both the lakes (the Mansar Lake and the Surinsar Lake) were created.

There are not so many attractions and places to see, but the tranquil peace in the lap of mother nature is quite refreshing. Jammu and Kashmir Tourism Development Corporation (JKTDC) offers excellent accommodation units with all the facilities near the lake. The lake and nearby area is eye soothing and known for the divine natural beauty.
Hot Destinations
Tourist Attractions